Contoarele electrice inteligente pot înregistra consumuri mult mai mari decât ar fi normal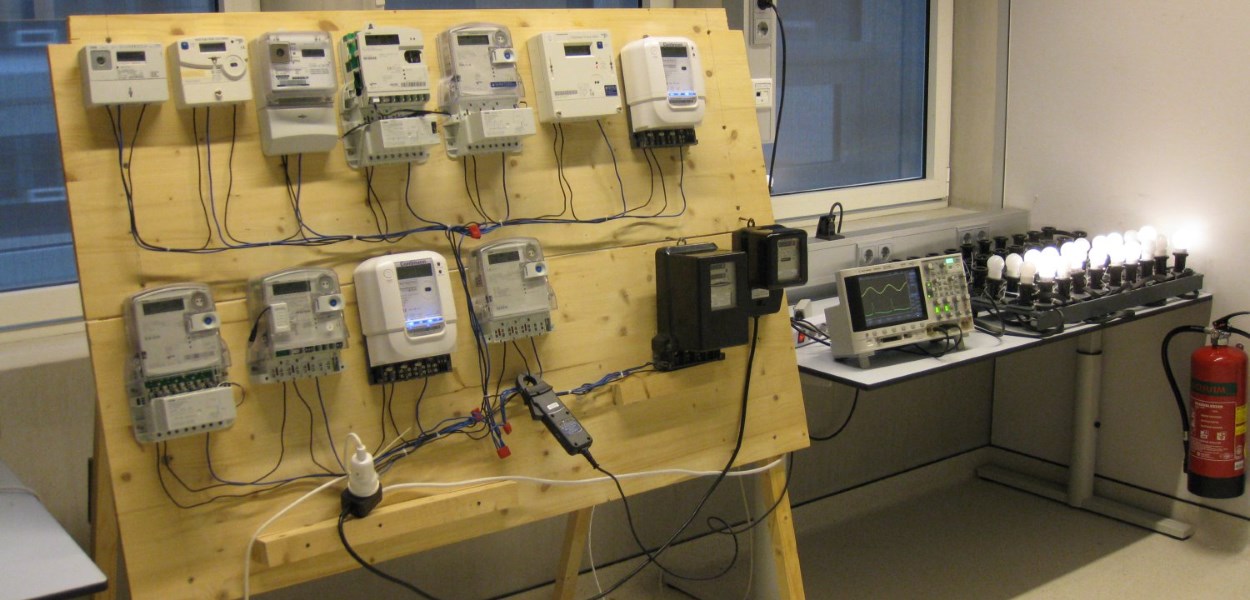 Bancul de proba utilizat in timpul experimentelor (Sursa: Universitatea din Twente)
O serie de teste de laborator efectuate de cercetători olandezi arată că o serie de contoare electrice inteligente pot oferi citiri mult mai mari decât ar fi normal.
În cadrul studiului au fost folosite nouă mărci diferite de contoare electrice inteligente, iar cercetătorii au folosit și un contor electromecanic, pentru comparații. Folosind un sistem simplu de testare, inginerii au conectat contoarele la diverse dispozitive găsite în locuințe, cum ar fi becuri economice sau reșouri.
Testele au fost efectuate pe parcursul a șase luni, fiecare test în parte având o durată de cel puțin o săptămână, iar cercetătorii au făcut tot posibilul pentru a simula condiții reale de utilizare, fără să ducă aparatele la limită.
Rezultatele acestor teste sunt extrem de variante, unele contoare electrice inteligente având erori de până la 582%. Testele care au avut asemenea rezultate au fost repetate de câteva ori, iar cifrele au fost asemănătoare, scrie bleepingcomputer.com.
Cinci din cele nouă contoare afișau rezultate mult mai mari decât în mod normal, iar alte două afișau rezultate mai mici, de până la -32% față de standard. Cele mai mari probleme au apărut atunci când la contoarele electrice erau legate becuri LED și becuri economice. În urma cercetărilor amănunțite, inginerii au descoperit că aparatele care ofereau citiri prea mari foloseau bobine Rogowski, în timp ce aparatele cu senzori bazați pe efectul Hall ofereau citiri mai mici.
Doar în Olanda, aproximativ 750.000 de contoare inteligente ar oferi rezultate greșite, iar la nivel global, numărul ar putea fi mult mai mare, deoarece guvernele, mai ales cele ale statelor membre UE, au început să promoveze astfel de contoare în defavoarea celor clasice, electromecanice.
Impactul real al acestui studiu nu poate fi măsurat, deoarece inginerii nu au publicat detalii despre producătorii și modelele de contoare testate.
—
Articol original
Millions of Smart Meters May Over-Inflate Readings by up to 600%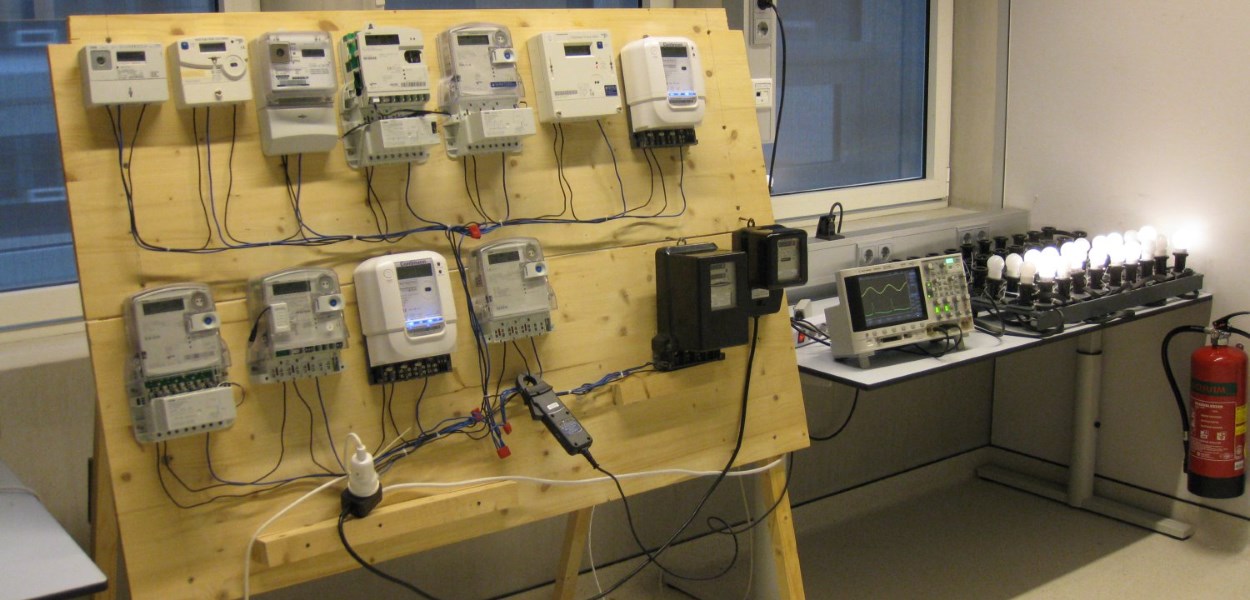 Test rig used durign the experiments (Source: University of Twente)
Lab tests carried out by Dutch scientists have shown that some of today's "smart" electrical meters may give out false readings that in some cases can be 582% higher than actual energy consumption.
The study involved several tests conducted on nine different brands of "smart" meters, also referred to in the industry as "static energy meters." Researchers also used one electromechanical meter for reference.
Using a simple test rig, portrayed above, researchers connected the smart meters to various power-consuming appliances found in regular homes, such as energy saving light bulbs, heaters, LED bulbs, and dimmers.
Tests lasted for six months
Experiments went on for six months, with individual tests lasting at least one week, and sometimes several weeks. Researchers tried to reproduce regular household energy consumption patterns and didn't focus on putting the smart meters to stressful conditions.
The study was conducted by researchers from the University of Twente and the Amsterdam University of Applied Sciences. As such, the meters were chosen to represent the installed base of energy meters in the Netherlands. Meters used in the tests were manufactured between 2004 and 2014.
Test results varied wildly, with some meters reporting errors way above their disclosed range, going from -32% to +582%. Tests with uncommon results were repeated several times and the results were within a few percents of the original.
Test results matched user complaints
The results of their study matched numbers posted on an online forum by a disgruntled Dutchman complaining about high energy bills.
Overall, five of the nine smart meters gave out readings much higher than the actual amount of power consumed, while two gave lower readings.
The greatest inaccuracies were seen when researchers combined dimmers with energy saving light bulbs and LED bulbs.
After finishing their lab experiment, researchers dismantled the smart meters to understand the problem. Following their efforts, the three-man research team discovered that smart meters which gave abnormally high readings used a Rogowski Coil in their setup, while the smart meters that gave out low readings used Hall effect-based sensors.
Problems blamed on smart meter designs
Researchers blamed all the issues on the design of some smart meters, and, ironically, electrical devices with energy-saving features.
The latter devices, researchers say, introduced a large amount of noise in electrical current waveforms, which disrupt the smart meter sensors tasked with recording power consumption.
"The reason for faulty readings appears to be the current sensor,
and the associated circuitry," said researchers. "The experimental results […] show that static energy meters can be pushed into faulty reading (positive and negative) if sufficiently fast pulsed currents are drawn by the consumer."
Up to 750,000 faulty smart meters in the Netherlands alone
Since the research only covered smart meters commonly installed in Dutch homes, researchers say that around 750,000 smart meters deployed around the Netherlands may be giving out false readings.
Worldwide, the numbers of possibly faulty smart meters could be in the millions, especially after some governments, especially in the EU, have pushed for smart meters to replace classic electromechanical (rotating disk) meters.
The true impact cannot be assessed, as researchers did not publish the names, makes, and models of the tested smart meters.
The research team's work, titled "Static Energy Meter Errors Caused by Conducted Electromagnetic Interference," has been published in the IEEE Electromagnetic Compatibility Magazine.
UPDATE [March 27, 2017]: ESMIG, which describes itself as |the European voice of the providers of smart energy solutions" has published research that disputes the findings of the Dutch researchers. Here are their main conclusions :
The electromagnetic interference phenomena created in the tests of the University of Twente grossly exceed emissions limits allowable under EU regulation for equipment typically used in households.
These conditions would not be found in any imaginable normal household scenario.
There is no reason to question smart metering technology.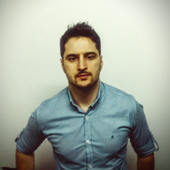 Author Bio
Catalin Cimpanu is the Security News Editor for Bleeping Computer, where he covers topics such as malware, breaches, vulnerabilities, exploits, hacking news, the Dark Web, and a few more. Catalin previously covered Web & Security news for Softpedia between May 2015 and October 2016. The easiest way to reach Catalin is via his XMPP/Jabber address at [email protected]
Because of the nature of my profession, all conversations are on the record, and details from the conversation may be used in our articles. Sources can request anonimity and that certain facts should not be published (off the record). Conversations via Twitter, or most other communication channels, are not secure, and users should not expect privacy. You can reach out via a secure/encrypted channel on Signal or WhatsApp at 0040 742 69 02 85, or via Keybase at user campuscodi.
—
Q: Why is my bill higher now with a "smart" meter?
Overbilling that occurs after "smart" meter installation is an unsolved mystery. Utilities will tell you that you are using more, or that it's been an unusually hot (or cold) month—whatever it is, according to them, the problem is NOT with their brand new, untested, strange RF-emitting device (which itself uses electricity- that you pay for!). The problem must be YOU, they say.
We have only heard of a very few cases of a utility refunding money due to overbilling. Two scientists in California worked hard for a long time, and got $1400 for their trouble—no damages were awarded to them by the CPUC. The utilities have little reason to care about you getting overbilled with lax oversight like that and no threat of fines or punishment for them.
So, we don't know why it happens, but clearly higher bills are one of the things some customers suffer after installation. A recent poll revealed that about one third of people who had "smart" meters installed had experienced bill increases and one quarter of those had had bills doubled, tripled, or more.
Document your historical usage, and then call, email and write letters to your utility. It's clear that some meters are defective, and they seem in no rush to ferret out which ones. Make them demonstrate that your meter is not to blame. Call local media that deal with consumer issues, such as consumer hotlines of local TV stations.
Mamaliga nu explodeaza doar fasaie!

Rusine! Rusine! Rusine!